Learn how to prepare your FADE IN user interface for your most productive writing experience.
To open the user interface settings dialog go to "Fade In – Preferences" and click the "User Interface" tab.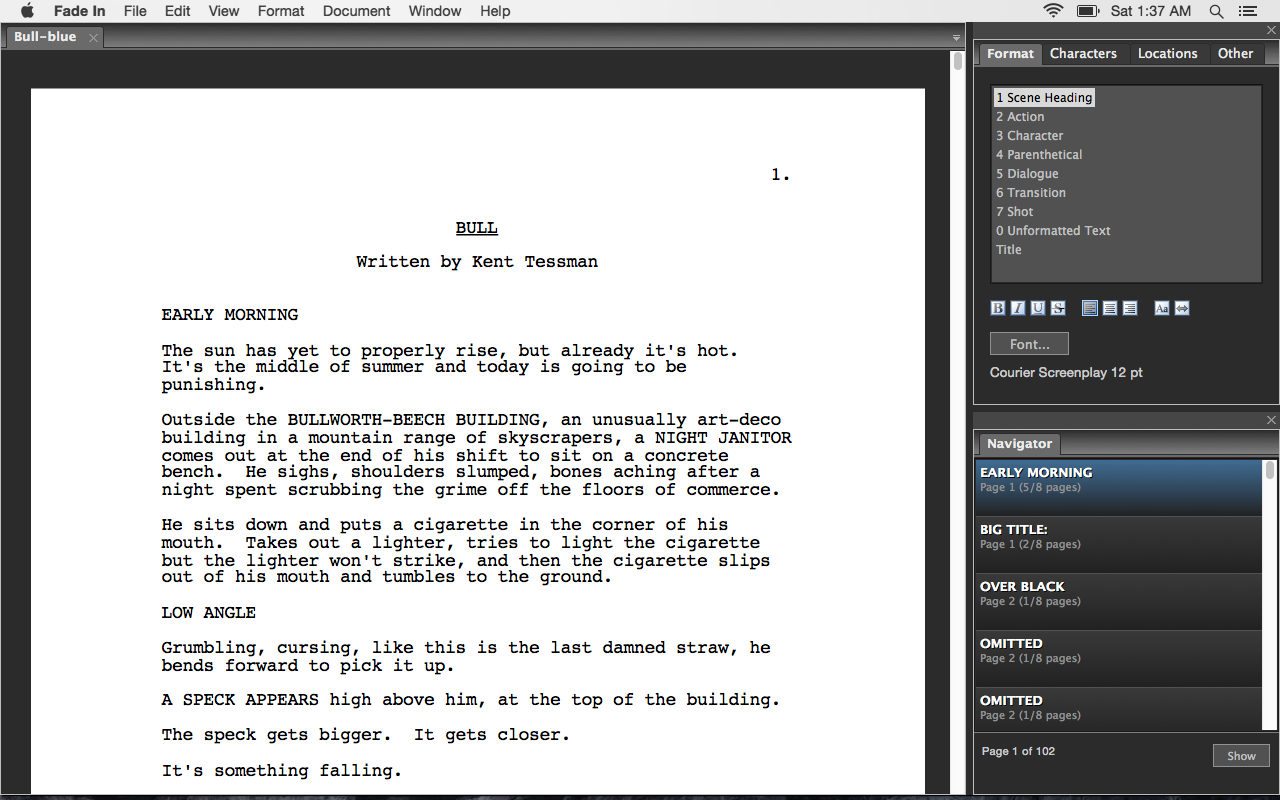 User interface brightness
Adjust the brightness to your liking here.
Theme
This gives you several overall designs to choose from.
Revisions
You can choose to have Fade In show you the revision color of the highest-ordered revision on that page or have the revised text displayed in color.
Custom page view window color
This changes the background color of the user interface if you don't like the one that comes with the theme.
Show splash screen at startup
Fade In will show you a splash screen when you start the program if that one is checked.
Keep typing centered
This keeps the line on which you're typing centered in the middle of the screen. In other writing applications this is also referred to as typewriter scrolling.
Always show ruler
This always displays the ruler with the page measurements and the margins at the top of the screen. If this is off, the ruler is only shown when the line length is being adjusted.
Page colors
If you want to have something different that black text on white paper, you can change the paper color here. Keep in mind though, that if you're working with revises pages and you choose a different paper color here, this will disable revision page colors in the "Editing" tab of the preferences.
Shortcut keys
You can customize shortcut key definitions here if you like.
Reset user interface
Reset all the settings for user interface, window layout, and so on and so forth here and change them back to default. Keep in mind that this doesn't reset shortcut keys. You can reset them independently under "Shortcut keys".
If you want to learn more about different Fade In tools and functions, look for more articles and videos here on writersterritory.com or on my YouTube channel.
If you're missing something, drop me a quick message or comment below and tell me what you've been looking for that I should include in future articles and videos.
If you like this article and you're here for the first time please subscribe to my newsletter. I want to help you find the perfect writing software for you and help you with problems and questions you might have about the software you already own, so you can go back to your writing as quickly as possible and spread the important stories and messages you want to share with others and hopefully enrich other peoples lives.
If you want to get in contact with me, the links are down below, just drop me a message and I'll respond as quickly as I can.
Did you find this article helpful? Please share...