There's a new mobile note taking app for iPad on the market called "Untitled" and this time, it's specifically designed for screenwriters. What that means and what it can do – have a look:
It's available on the App Store for the iPad and the website says it's a notebook designed specifically for screenwriters.
So, let's look at the notebook thing first.
Making Notes
Untitled let's you create notes like any other note taking app, but here they're called "pages".
So let's do that, let's create a new page. As you can see Untitled creates a new page and automatically adds a title and an author tag.
Let's call this "Untitled Note 1"
And then you can just add whatever you like down below.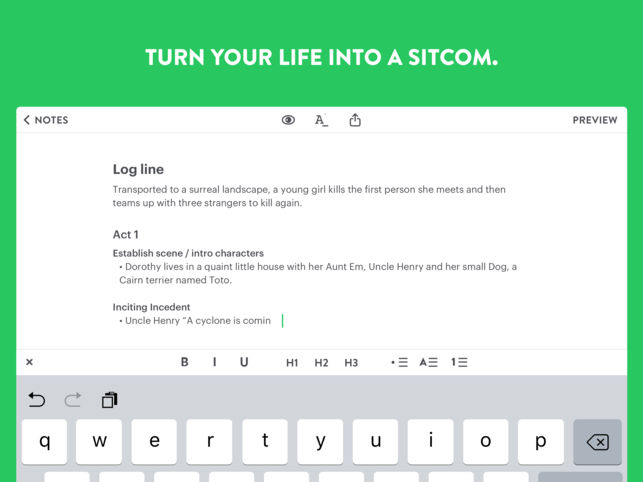 Let's go back and create another note the same way, let's call this one "Untitled Note 2".
Now, I assume that over time you'll have quite a lot of different notes in here, so Untitled let's you make folders. Just add a folder in the menu where you added a page before and give it a name.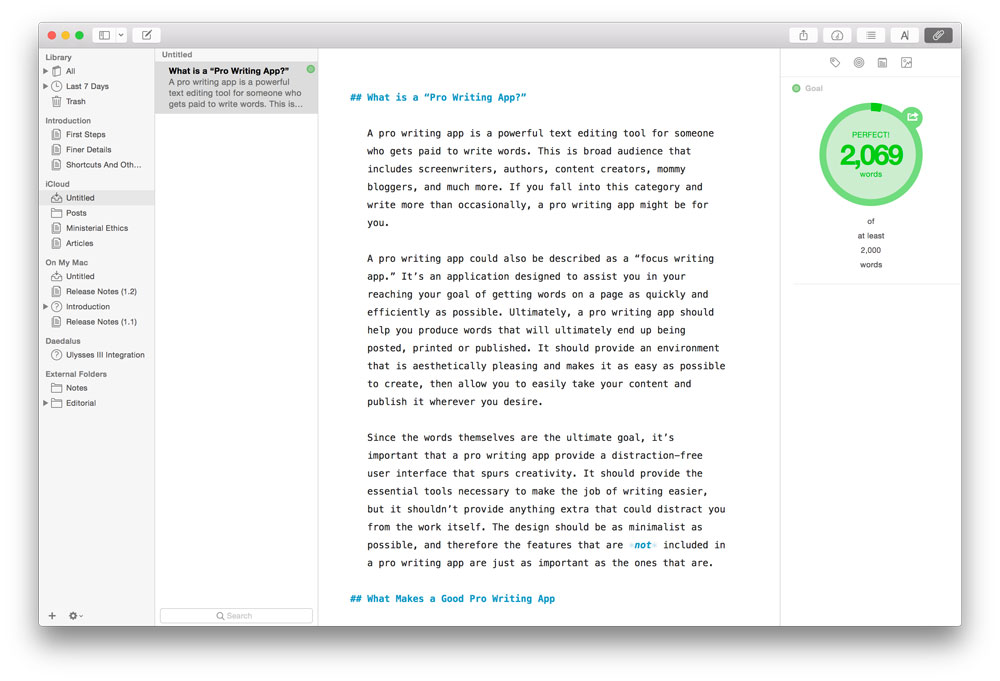 If you swipe left on a page or a folder, a little menu is revealed where you can rename, move, or delete a page or folder.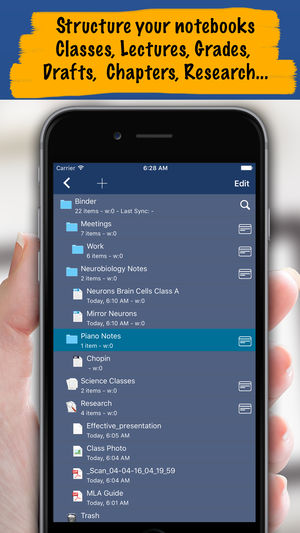 So let's put these two notes inside this folder.
Okay, so far so good.
Script Preview
Now let's suppose you've taken a couple of notes and your ideas are starting to take shape and you basically go about writing a scene, or just part of a scene. This can be a line of action, a specific location, a line of dialogue, whatever pops into your head.
Let's try that. Go back into your note and for this example we're going to write this:
We're inside an abandoned office building at night.
Claire looks around, obviously completely out of place. Suddenly–
A BANG!
Claire jumps.
Claire
Oh my god!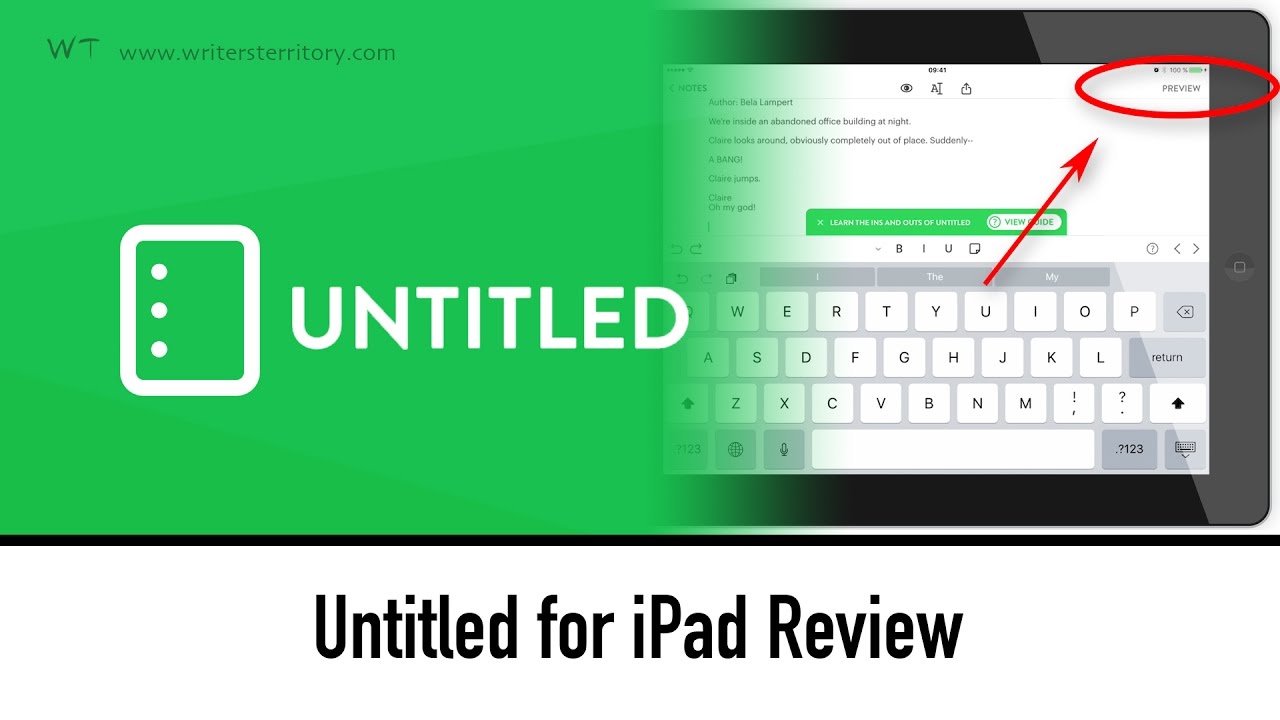 Okay, for now let's leave it at that. Now, what sets Untitled apart from other notebook apps is what happens when you press "Preview".
As you can see Untitled gives you a representation of your scene what it will look like once your screenplay is finished.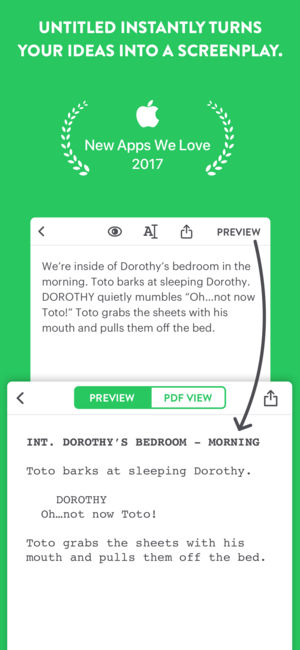 How does that work?
Basically what Untitled does is it uses a similar functionality as fountain does. Fountain is a simple markup language for screenwriters created by John August. If you want to know more about it there is a link to another article in the video description down below.
But in principle it means that you can write your screenplay in any simple text editor if you stick to a very simple syntax and you will then be able to convert it into the standard screenplay format.
Untitled does the same thing but has built on fountain functionality. E.g. In fountain you'd have to write "ext." Or "int." To make a new scene heading. Untitled will also recognize something as a scene heading if you just write for example:
"We're outside of a bank in the morning."
When you hit "preview" you see that this is converted into "EXT. BANK – MORNING."
Script Elements
There are a few things to know though, for example if you want to use bold or italics formatting, or if you want to add a camera angle, stuff like that.
For example, if you want to create a transition just add a ">" (greater than) symbol at the beginning of the line.
There is a built-in guide inside the app where you can look up how to create certain elements quickly.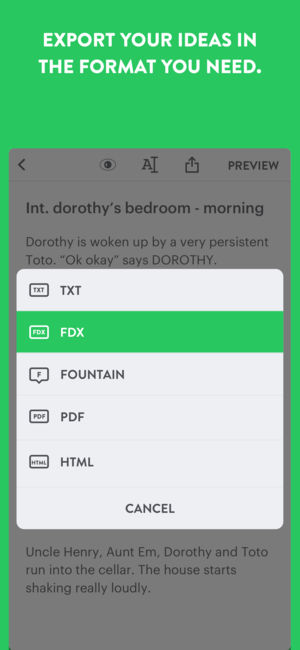 Also, I've prepared a Cheat Sheet for you with all the Untitled syntax elements on one page as a free pdf download. If you want to check that out, click here:
Download FREE Untitled Cheat Sheet
So, with this screenwriting functions built in you can basically keep taking notes as long as you want and keep refining them until you have your finished screenplay. Or a scene. Or a bunch of scenes. You don't necessarily have to use another program to do the real writing.
Exporting Your Script
Now, let's suppose you keep writing until you have your draft finished, what then?
Untitled let's you export as either pdf or as html, which you can then store for example in your dropbox or your iCloud.
Also, you can export your file as a txt file if you hit "share" instead of "export as". Untitled then exports your notes as they are, which is simple plain text.
Importing Notes
Since we've talked about exporting, let me say something real quick about importing. You can also import notes, for example to get all your notes together that you've stored in other places like evernote, apple notes, word documents, the like.
Hit the "+" button where you would also add a new page or folder and then hit "import". You can import from cloud storage like dropbox, iCloud or Google Drive. But be aware that the files you want to import have to be in the .txt format.
Conclusion
Okay, so, let's wrap this up. What do I think about it? I think it's a really nice addition in a screenwriter's app arsenal to have a notebook app that has this preview feature built-in. My guess would be that many of you like to see what the scene will look like in the script format and you don't have to go to another app in order to do that.
Also, you can have both, the note-taking and the script-writing in one place. Of course there are other desktop software packages out there that can do that but if you don't need all the other functionality and maybe you don't want to spend a lot of money and you just want to have all your notes and your scripts in one place, and you're writing on the go a lot, Untitled really might be something you want to try out.
As I said before at the moment it's only available on the iPad, but I talked to the founder of Untitled, an iPhone version is already being worked on and of course they're also planning to add more features to the app over time as well.
Also, if you decide to buy the app and you have suggestions for new features, there is a little message that pops up after you've been using it a couple of times where you can leave feedback if you like. So, they've really made it easy to get in contact.
In case you're interested, Untitled is available on the AppStore for $9,99.
To check out the Untitled App website, you can do so here.
If you try it, let me know how it goes, I'm looking forward to hearing what you think about it.
If you want to learn more about different writing tools and functions, look for more articles and videos on writersterritory.com or on my YouTube channel.
If you're missing something, drop me a quick message and tell me what you've been looking for that I should include in future articles and videos.
If you like this article and you're here for the first time please subscribe to my newsletter. I want to help you find the perfect writing software for you and help you with problems and questions you might have about the software you already own, so you can go back to your writing as quickly as possible and spread the important stories and messages you want to share with others and hopefully enrich other peoples lives.
If you want to get in contact with me, the links are down below, just drop me a message and I'll respond as quickly as I can.
Have fun writing everybody. See you. Bye.