Search Results Window
Every time you enter a search term in Scrivener, the criteria of your search are saved into a collection called Search Results. This means every time you click on that collection you see the results of the last search you ran.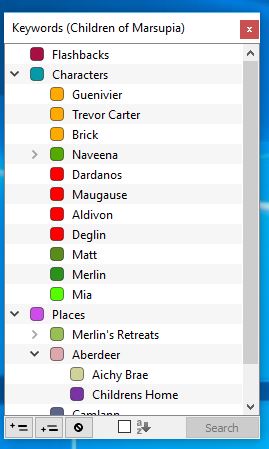 This collection is saved along with your project and it's available to you until you run your next search.
The search collection also allows you to view and change label and status of your items. Right-click in the collection header area and select Show Label & Status Columns.
Now, if you run your next search term this collection will be gone again and replaced with the results of your next search. But what if you want to keep these results?
You could of course just make a new collection with these items just like you can from your binder: select the items you want to collect, right click – Add To Collection – New collection. Or use the "plus" icon here at the top right of the collections area.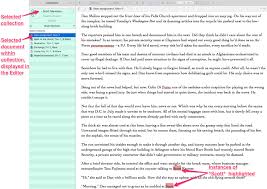 But: what if you want this collection to be permanently updated, always reflecting your search results?
Standard Collections vs. Saved Search Collections
A standard collection can't do that. You can add files, delete files, but as long as you don't do that, it always stays the same.
But there is a function in Scrivener to keep your collections permanently updated. If you go to the search menu next to the search bar, all the way to the bottom it says: "Save Search As Collection…".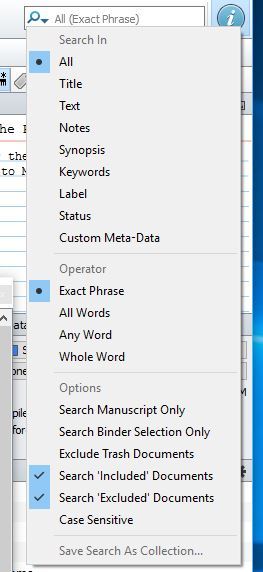 Let's see what that does.
For example, let's assume you want to make a collection that contains every scene of your screenplay where a certain character shows up. You enter the name here in the search box, and then select, "Save Search As Collection…".
Name the Collection anyway you like, and hit OK. Scrivener now creates a new selection and as you can see there is a magnifying glass icon next to the collection title. This indicates that this collection is a saved search collection and will continually update according to the search term you entered when you created it.
Let's see how that works.
Saved Search Collections Update Automatically
I'm going to make another saved search collection, this time with another character of my script.
Again, enter the search phrase, and select "Save Search As Collection…" from the search menu.
Now, I'm going to change the name of this character in one scene. Let's change this one here to Beckie and see what happens.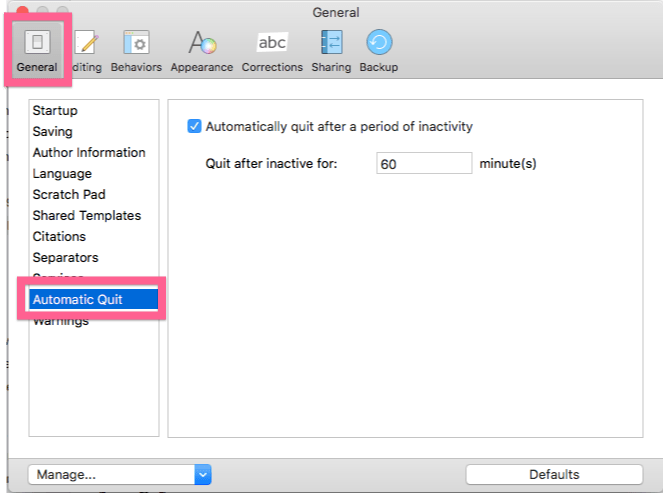 For now, nothing, because the collection is still open. If you pick another selection and go back you see that the scene is gone. Because it no longer contains my search phrase.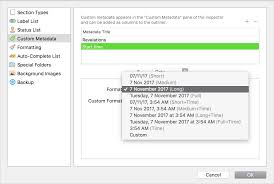 When I go back to the scene and undo my changes, – let's do this real quick – , you see, the scene pops up in the original search collection again.
There are a few limitations though you need to be aware of with saved search collections.
1. You cannot rearrange the order of the items. The saved search collection will always show you the search order, which is also the order of the binder.
2. You cannot save searches performed using the "Binder Selection Only" option here in the search menu. The binder selection is just temporary and changes every time you click the binder. If this "Save Search As Collection…" is greyed out and you can't click it, make sure "Search Binder Selection Only" is deactivated.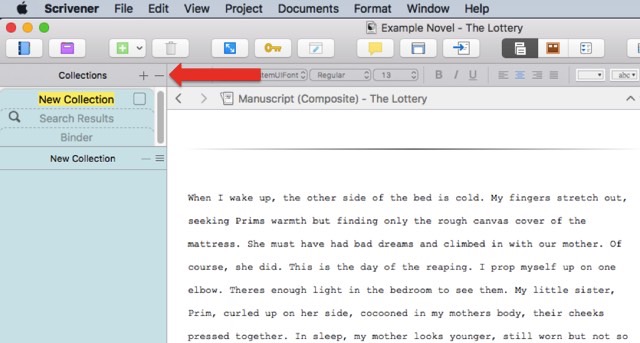 I think these saved search collections in Scrivener are a very powerful feature for keeping things organized, especially when you have lots and lots of binder items to deal with.
Are you using this functionality in Scrivener? How do you keep organized? Do you use collections? Leave me a comment below…