Amazon Studios just released a new, FREE scriptwriting software.
Let's see what it can do.
It's called Amazon Storywriter and it's a cloud based app which you can open in your browser. You access it by going to: studios.amazon.com. Click "Register" and enter your Amazon account information.
Create A New Script
To access the Storywriter, go to Create – Write your movie or TV script.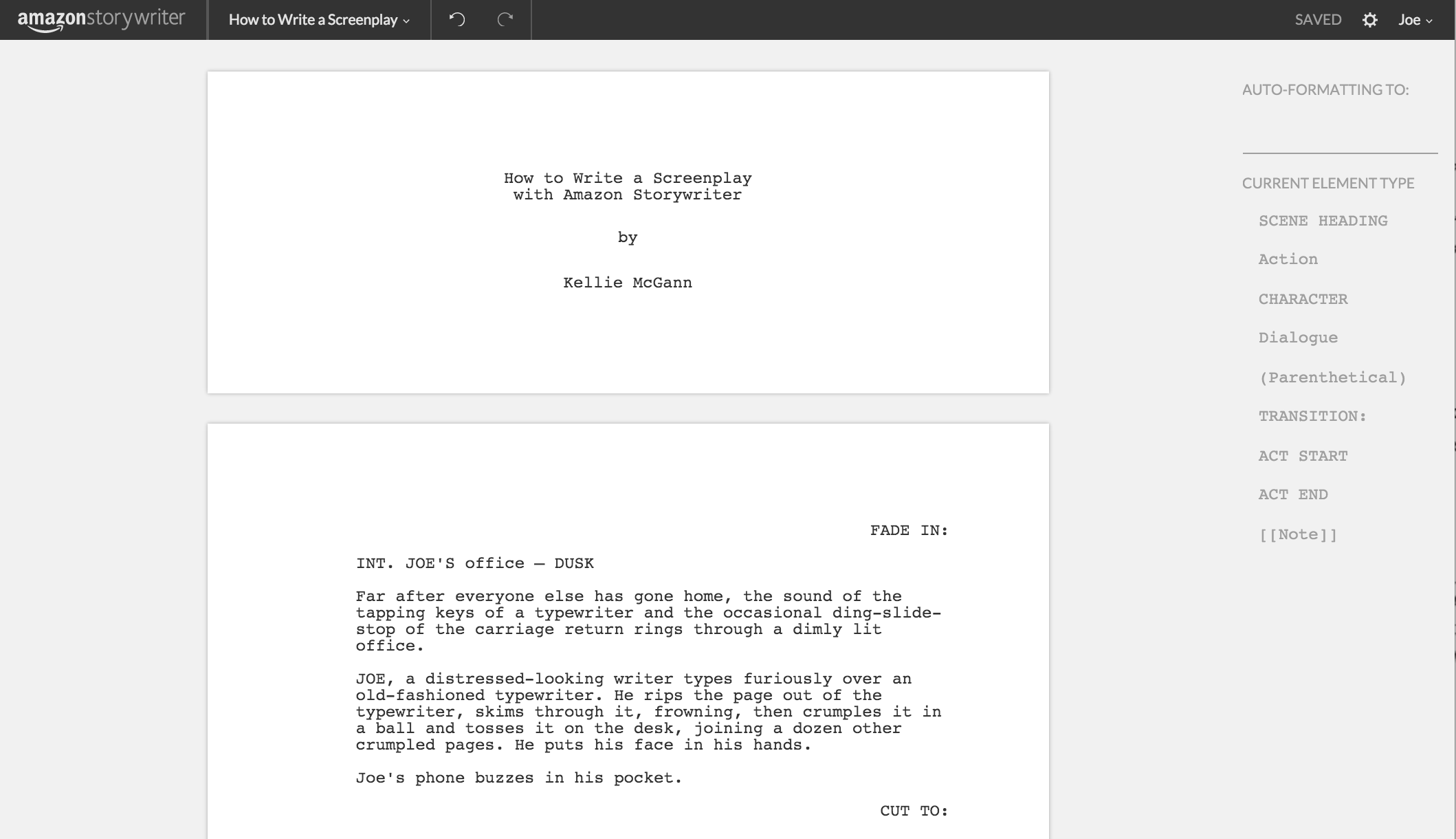 Now we're in the main interface. It's all pretty simple and straight forward. You create a new script or import an existing one. To start a new one, just click and you go straight to the page and you can start typing.

Weirdly enough the default format here is action and not Scene heading if you start a script. So, let's change that to scene heading. You can jump through the formatting presets with TAB and ENTER, just the way you're used to.
What else can you do here?
You have a title page. If you scroll all the way up, it is revealed at the top.
What else?
You can turn the element menu on and off, and you can activate typewriter scrolling here if you like.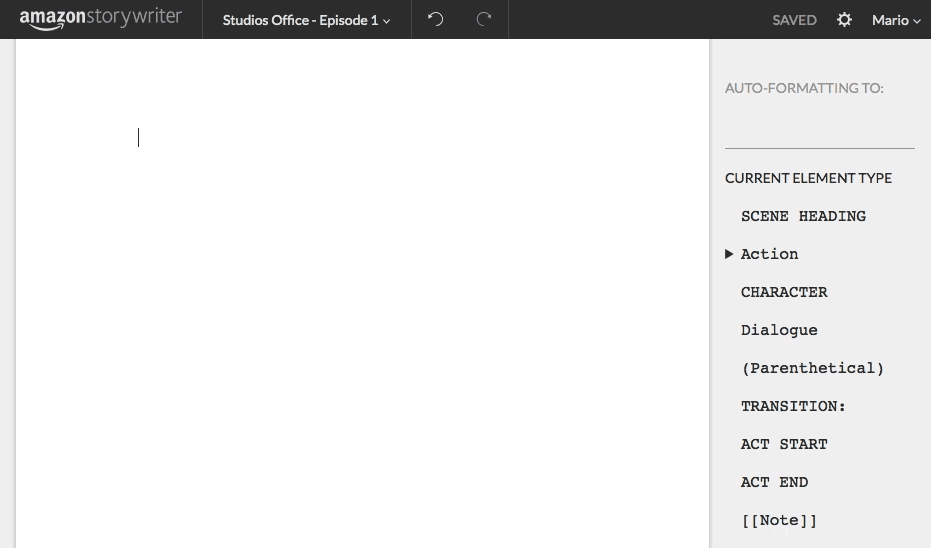 This menu at the top left lets you:
– Rename your script
– Edit the title page, if you don't want to scroll all the way to the top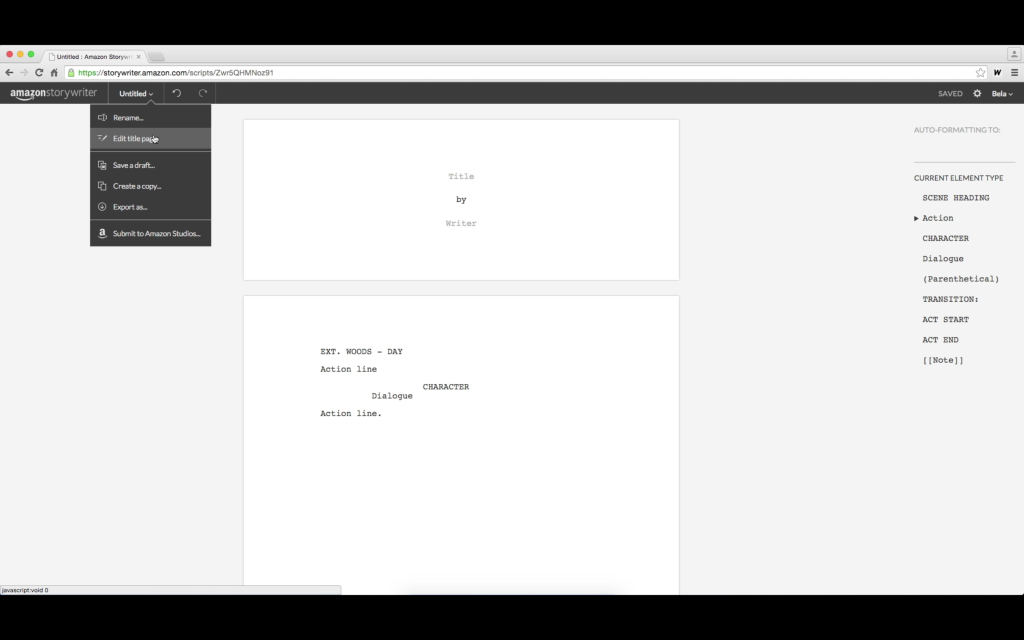 And then you have "Save a draft" and "Create a copy". The difference is this:
If you save a draft the current version of your script will be locked, and you can save this version as a read only draft. So you can refer back to it anytime you wish. If you make a copy, the new version of your script remains editable and you can save it under a different name.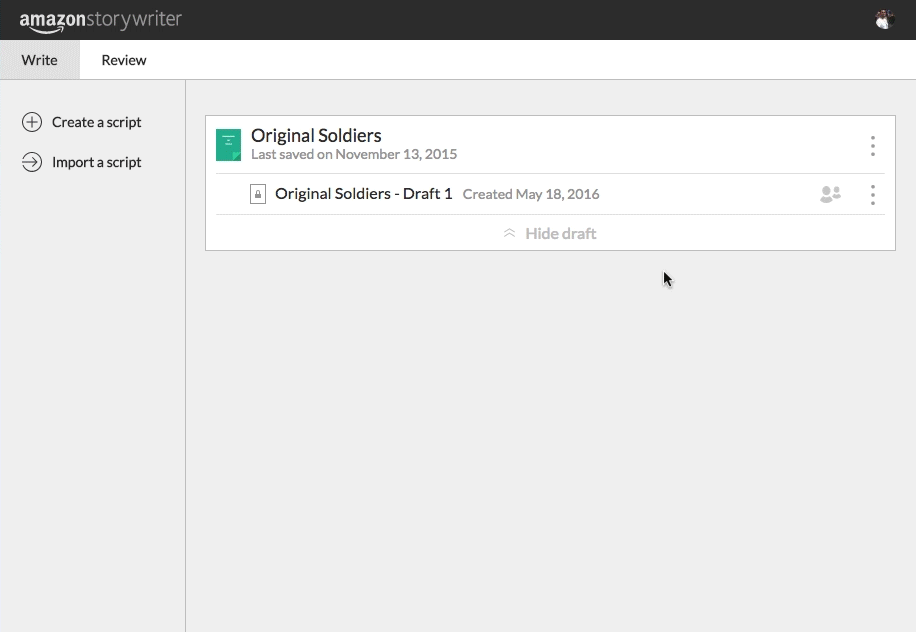 Export Script Formats
You can export your script as pdf, fdx and fountain.
And you can submit your script to Amazon Studios. Of course.
What's missing?
Obviously it's intended to give you an easy and distraction free way of writing from anywhere you like. And if that's what you're looking for it does a pretty good job. The only thing that's obviously missing is italics and bold formatting. And underlining.
So, you might say, it's a nice, clean, little cloud base writing app that does an ok job. But you'd be wrong. Because it offers a very useful hidden functionality which I will show you in a second.
But let's test a few other things first.
How does it look on mobile?
Let's see.
This is how it looks like on the iPad…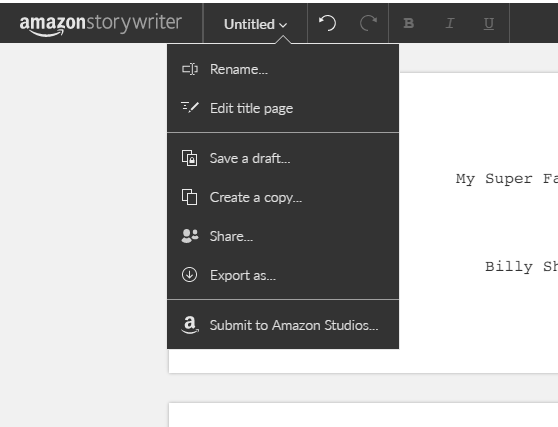 … and this is how it looks on the iPhone.

Not bad, but there is one crucial thing missing: the writing. On your mobile devices the app is read-only. So, no writing on the go. Sorry, folks.
Can you write offline?
Yes, you can. And no you can't. It depends on the browser you use. If you want to work offline you need to download the chrome browser app. You can get it from storywriter.amazon.com. If you're logged in you'll see the writing interface, so just log out, and there you have a button that says "Install the free Chrome app". This will install the chrome app launcher as well as the offline Amazon Storywriter app.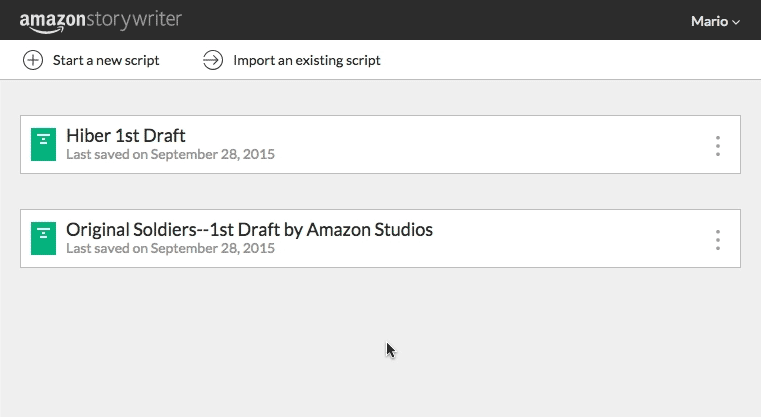 And it looks like this: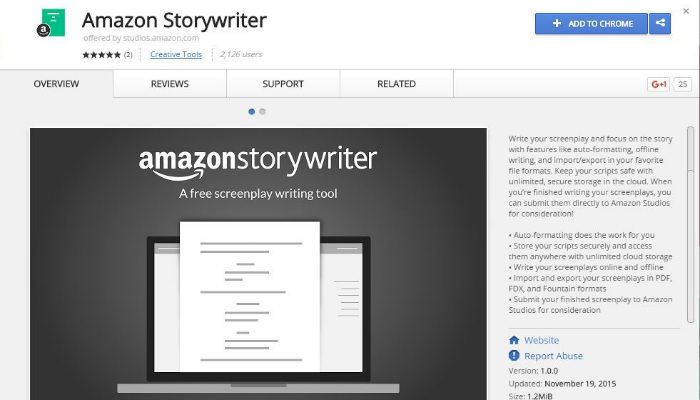 It's pretty much the same as the cloud version but there are a few things you need to be aware of if you're working offline:
You can't import a script

You can't export

You can't submit your script to Amazon Studios, obviously

You can't do pretty much anything in the profile menu, because all of that needs an internet connection.

Except: you CAN sign out
But be careful: if you sign out before syncing your edited scripts back to the Amazon server, you'll lose all your changes.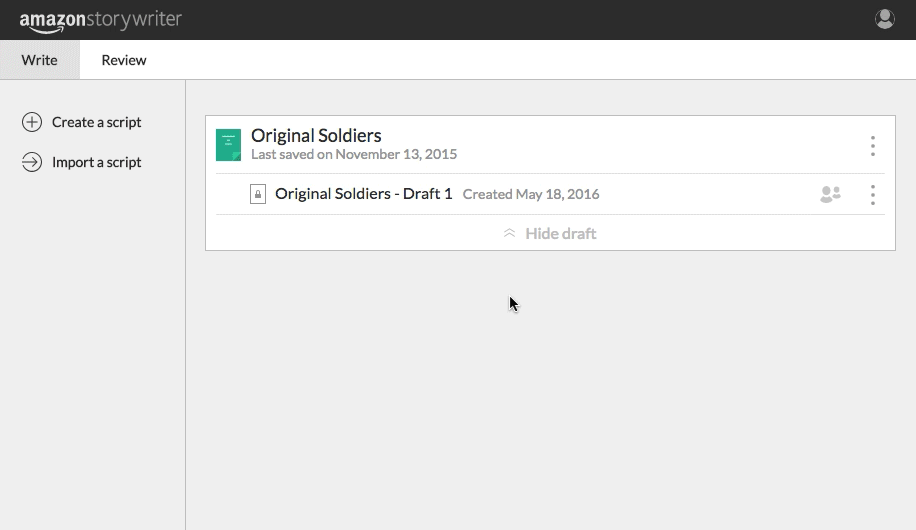 How do you sync your scripts?
You go to the Storywriter home screen by clicking on the logo in the upper top left corner, and then click on the cyan coloured sync button next to your script.

This will update the cloud version of your script and if you see the green check you're good.

A Hidden Gem For Screenwriters
OK. I promised you a hidden feature, and here it is.
Remember, I told you that Storywriter can export to pdf, Final Draft and Fountain? It can also IMPORT these formats.
That means. Whether you want to use Storywriter for writing or not. What you get is a FREE pdf, Final Draft and Fountain converter. You can import a pdf script, and Storywriter will keep the formatting AND make it editable. So now you can export it to Final Draft or Fountain and do with it pretty much anything you like.


And I think that is really cool.
OK, that's it. If you want to try Storywriter, give it a spin.
If you find anything that's worth mentioning you can or comment below, and I'll be happy to let others know about it.

If you liked this review feel free to subscribe to my YouTube Channel, join me on Facebook or subscribe to the Writer's Territory Newsletter (on the right side) to receive more tips and tricks on how to use YOUR writing software most effective.
Did you find this article helpful? Please share...