Novlr just got better – at least that's what an email in my inbox said the other day.
In this article I'm going to show you what is new in Novlr to see if it really IS better. Novlr is an online writing platform for novelists. If you want to check it out, go to novlr.org.
Distraction-Free Writing
What I like about Novlr is its simplicity. It is distraction-free writing at its best. If you use your browser in full screen mode and activate focus mode inside of Novlr too, even the header bar fades away when you're writing and you see nothing but your novel.
No distractions at all. Love that.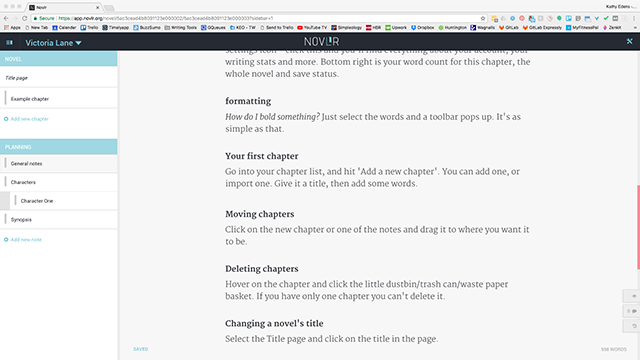 So, let's have a look what's new.
New Button: Add Novel
They've added a new button to add new novels here on the left. Just click it, enter the name for your novel, that's it.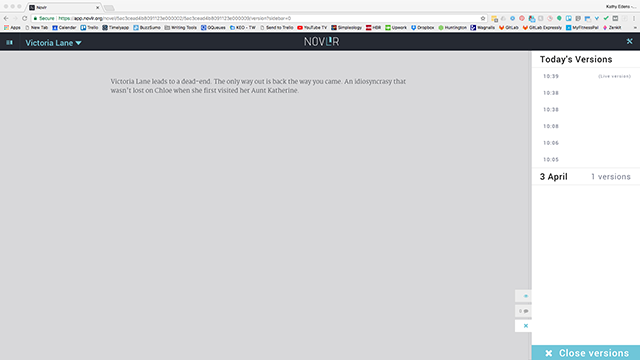 The other new thing is versioning. That's really neat.
New Feature: Versioning
Here in the lower right corner is a new button. Click it and you see all the versions Novlr saved for you while you've been writing.
It stores a new version of your novel every minute. So, by clicking on the time stamp here you can browse through your changes and go back to an older version if you like.
Just click Restore, and you're there.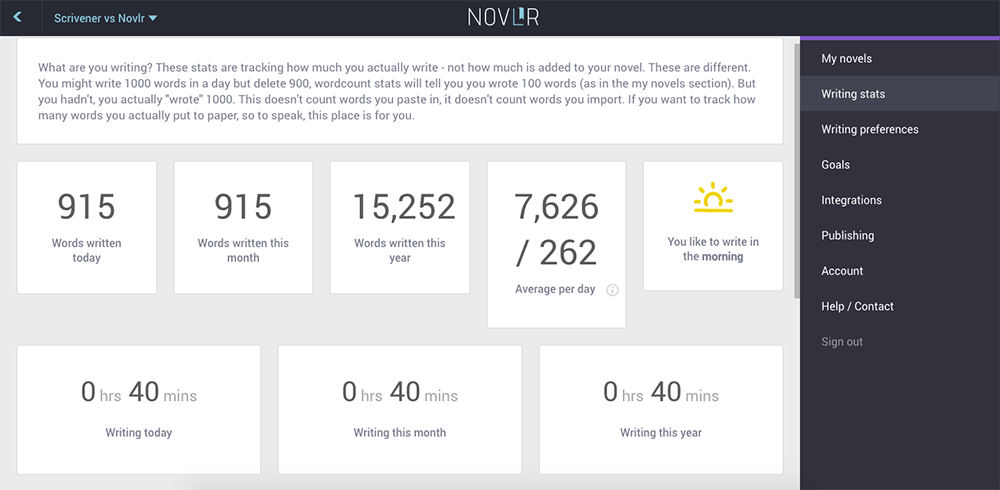 Now, the nice thing about this, is, of course that you can go back to older versions, but also, that it doesn't get rid of the versions in between.
If you click the versioning button again you see that Novlr didn't delete the other changes you made, it just adds a new version on top. So, should you want to go back to any of the versions Novlr saved in between, they're all still there and you won't lose a single word.
So, if you're a novelist and you want to give Novlr a spin, go to novlr.org. Since it's an online platform you don't have to install anything, just log in and you're good to go.
You'll find the link to Novlr in the description below.
At the moment they're operating on a subscription based model, which is $10 a month or $100 bucks for a full year.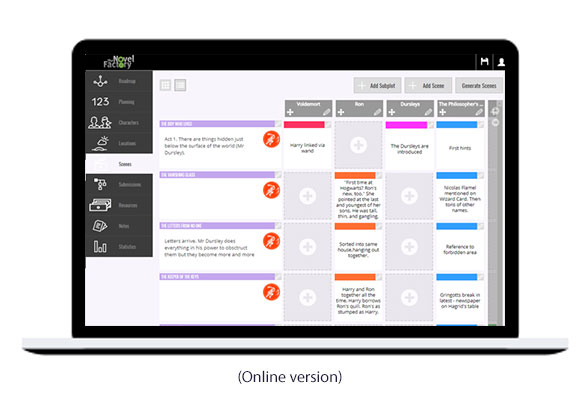 If you're not sure if Novlr is for you they also offer a two week trial.
Are you a Novlr user? If yes, what do you like about it and would you recommend it to other novel writers? Leave me a comment below and let me know what you think. I'm sure others will be happy hearing about your experiences too.
If you like this article please comment below. I want to help you find the perfect writing software for you and help you with problems and questions you might have about the software you already own, so you can go back to your writing as quickly as possible and spread the important stories and messages you want to share with others and hopefully enrich other peoples lives.

If you want to get in contact with me, the links are down below, just drop me a message and I'll respond as quickly as I can.

Have fun writing everybody. See you. Bye.
Did you find this article helpful? Please share...