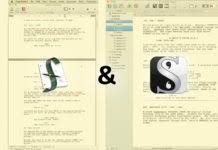 Literatureandlatte (the makers of Scrivener) have announced an iPad app that should be able to take your beloved Scrivener projects on the road with you. But it is not here yet, which means for now you'll have to work with other workflows to have your scrivener projects with you.
One of these workflow is syncing with Index Cards for iPad.
Index Cards for iPad is basically a cork board that lets you create and reorder virtual index cards. You can assign them different colors, stack them, and enter synopsis text as well as longer text on the "backside". All pretty basic but still – pretty neat.
And you can sync files from Scrivener with Index Cards.
But…
…you can only sync collections. Which means, every scrivener item item (in your binder) that you want to take with you has to be put inside a collection first.
The Workflow
This is how it all works:
1. Create a collection in Scrivener
Click on the icon to show collections. Then, click the +-button to create a new collection. Give it a meaningful name. Now put all the files you want to sync inside that collection. To do that, select them in the binder (you can select several items by holding the cmd-key – ctrl on the PC). Right-click on the selected files and choose "Add to collection – …". The name of the collection you just created shows up here. Click it. All the files show up in your collection now.
2. Sync the collection with Index Cards
Choose "File – Sync – with Index Card for iOS". You're presented with this dialog:

If you have more than one collection make sure the right one is selected. Click "Create or Update Index Card File…". If you already have created an Index Card file you can update it. If not, create a new one. Move to your dropbox folder and create a folder named "IndexCard" (or choose a name to your liking). Click "Save" to save the Index Card file in the specified location.
3. Import Index Card file on the iPad
On your iPad, open your Dropbox app and move to the folder where you saved the Index Card file earlier. Open it and then press the "export" button in the upper right corner. Choose "Open In …". Now choose "Open in Index Card".
4. Edit files in Index Card on the go
Now you have your collection in the Index Card app the way you saved it in your Scrivener collection earlier. You can mess around with it now the way you like it. Add new cards, delete some, reorder them, give them a color. Whatever you like.
5. Bring changes back to Scrivener
Now bring your changed files back to Scrivener. In the Index Card app, tap on the "export" icon in the upper right corner and choose "Copy to Dropbox". You are asked in which format you want to export the file. Choose "Index Card". The file will export. Index Card finds the file you imported in your Dropbox folder and asks if you want to replace the existing file. Tap "Replace".
Go back to Scrivener, choose "File – Sync – with Index Card for iOS…" again. In the window that pops open, this time click "Update Collection from Index Card File…". Navigate to the updated Index Card file in your Dropbox (if it isn't shown already) and hit "Open". Your collection will update with the changed files.
If you added Index Cards Scrivener will tell you that there are new files that will be placed into a separate folder in the binder. Since every file in a collection needs a corresponding place in the binder Scrivener doesn't know where else to put it. Just go to the binder and move it to the desired place in the binder.
That's it.
Do you use your iPad for writing on the go? What is your workflow? How do you sync your files back to another machine? Let me know below…
Did you find this article helpful? Please share...