In this post I'm going to show you something very cool in Fade In which is importing and editing pdf scripts quickly and easily. Also, we're gonna talk just a little bit about platform compatibility.
Here we go.
Today I'm going to take a look at Fade In. Fade In has a very cool feature that many other, let's say, "bigger", software packages do not have, be it Final Draft, Movie Magic Screenwriter or Scrivener.
I'm talking about importing PDF script files. Since every software package uses more or less its own file format there is no standard screenplay interchange format in the industry.
So most of the time scripts are exchanged using the pdf format because it can be opened and read on almost any system. However pdf files cannot be edited directly. They're mostly just used for reading and commenting. So, what are you going to do if you need to edit a script that you only have as a pdf.
With Fade In that's no problem at all. What it does is it imports a pdf script file just like almost any other script file, and converts it to an editable Fade In script while maintaining the screenplay format.
Let me show you.
In the main interface, just just go to File – Import – Screenplay pdf and Fade In will import the whole thing just like this.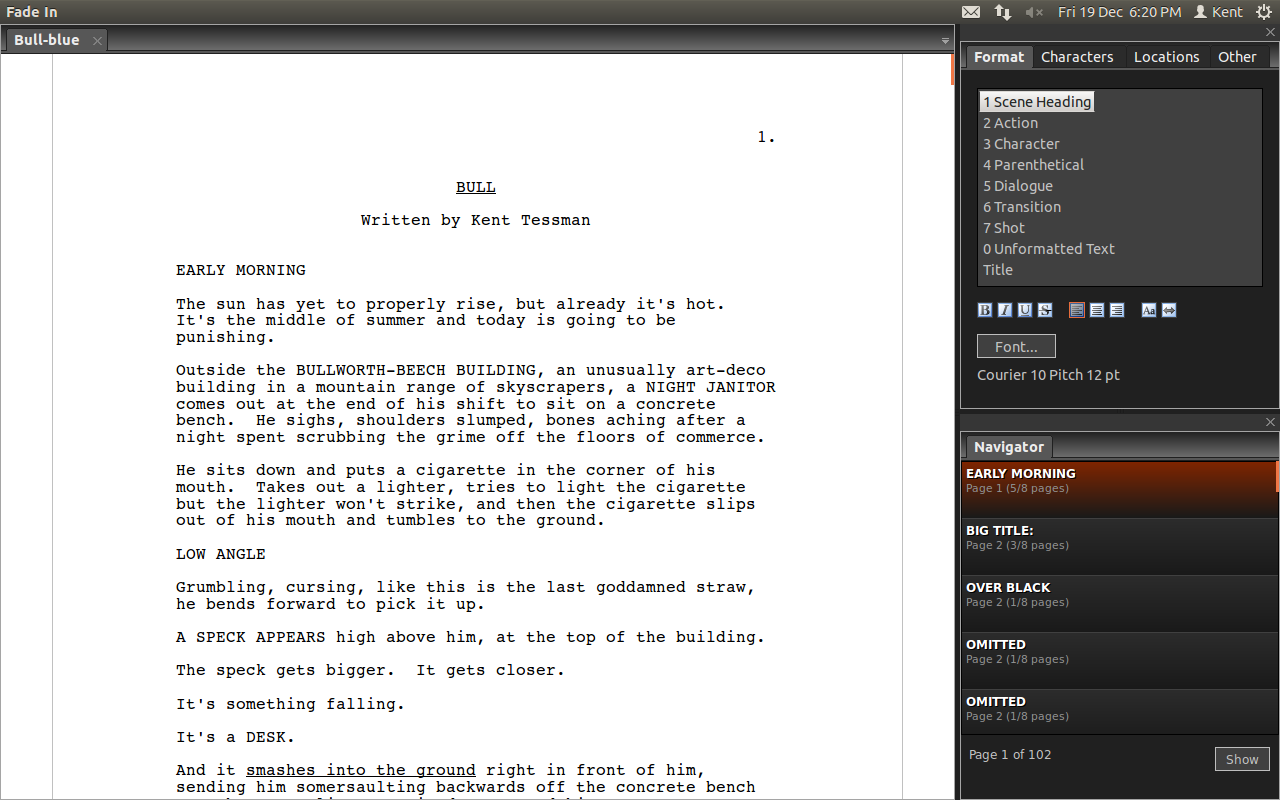 Now you simply go about editing this thing just like you would with any other format.

So if you are working with a lot of pdf screenplays you're going to love this feature because you can use your time for writing and don't need to worry about file conversion.
This feature definitely gives Fade In an advantage over other big screenwriting tools out there which lack this functionality.
If you want to try for yourself you can download a Face In demo from www.fadeinpro.com.
Fade In works on pretty much any system that you can imagine, be it Mac OS, Windows, Linux, iOS or Android.
So, if you need to work with lots of different file formats and platforms you might consider Fade In as the Screenwriting Software of your choice.
Watch out for more videos about other Fade In features and benefits for you as screenwriter.
If you like this video, please comment below, subscribe to my channel and or to the Writer's Territory Newsletter. Let me help you decide which his the best writing software for you before you spend your money and let me show you how the tools you already own help your writing process the most.

Don't miss regular news updates, reviews, how-to's, and tips and tricks about the best software for writers like you.

If you have any specific software problems or questions, just let me know and I'm happy to help you and others solve them so you can get back to writing as quickly as possible.
Did you find this article helpful? Please share...